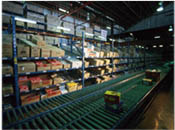 Return Warehouse Liquidation:
Sometime during 2001, Dealco, Inc. was asked to liquidate a large assortment of inventory from a closing warehouse. This warehouse location was used for the processing of store buybacks and returns. After negotiating our price, we moved sixteen trailers of assorted merchandise from the closing facility to one of our own warehouses in New Jersey. From there we managed the inventory and distributed it to various customers throughout the country and overseas.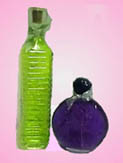 Decorative Glass Bottles:
A wholesaler whom we happen to do a lot of business with came to us with a proposal. They were moving out of their warehouse and had twenty trailers of decorative glass bottles left over from a large project they had completed a year ago. At their request, we liquidated the balance of their inventory out of the old warehouse, selling the bottles to a customer out of the country.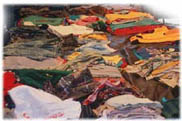 Used Clothing:
On this occasion, the owner of a warehouse contacted Dealco, Inc. because an evicted tenant left behind 8.5 million pounds of used clothing. We established a temporary office at the site and began shipping out the used clothing. Some of the better grade clothing went to charity. Some of the better grade and good grade clothing was exported overseas to third world countries for distribution. We had to get creative with the lower grade product, though. In the end, we shipped most of the low-grade clothing to a company who intended to shred the fabric for use as filling in comforters.